Saki Europe GmbH
Czech (Prague) Office
Saki Corporation was started in 1994 to solve the challenge of SMT inspection of printed circuit board assemblies (PCBA) in electronics manufacturing for the Sony Walkman. The result was Saki's line-scan technology, the first technology to rapidly capture a PCBA in one pass with a seamless image. The advantages and applications of line-scan technology are still being implemented today as Saki continues to be a leading innovator of image capture, including high quality 3D topology image acquisition. This expertise contributes to making Saki's automated optical inspection (AOI) and solder paste inspection (SPI) systems among the best performing in the industry.
Saki's motto is, "Challenging the creation of new value," and Saki continues to be known for its innovation firsts--the first with true 3D AOI and 3D automated CT x-ray inspection (AXI), the first 2D both-side AOI, and the first self-programming inspection software. Saki Self-Programming (SSP) software doesn't require programming or a golden board and, in a matter of minutes, completely programs and verifies the inspection process in real time, eliminating variables and operator error.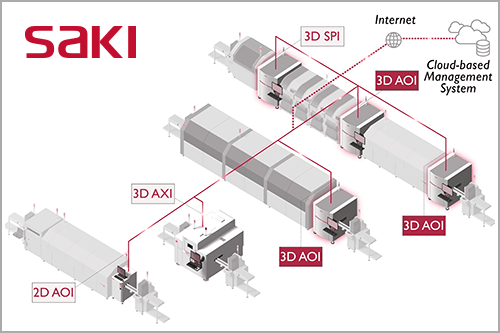 Saki has a complete line of automated inspection equipment, including 2D and 3D AOI, 2D bottom-side AOI, 3D SPI, and 3D AXI. Built on the foundation of Quality Driven Production (QDP) which is based on quality, reliability, consistency, and ease of use, Saki's systems are used to inspect electronic assemblies that operate in high-reliability environments like medical, automotive, military, and aerospace where failure is not an option.
QDP has propelled Saki to be a leader in machine-to-machine (M2M) communication, the Smart Factory, and Industry 4.0. Saki has established relationships with many of the leading companies in the electronics assembly industry. Partnerships include Fuji Machine Manufacturing's Smart Factory with Nexim, the ASYS PULSE community, Cogiscan, Ersa, and many others. Saki adheres to the standards set forth by the SMT equipment communication protocol standardization subcommittee (JARA), the Hermes Standard, and CFX.
QDP improves inspection process stability, maximizes line first-pass yield, minimizes operating and quality-related costs, and provides full traceability of the inspection process. Additionally, Saki is focusing on having the same software platform for all Saki inspection systems to facilitate user operation and programming. A rigid frame and proprietary software ensure that the vertical axes are parallel and keep the system running smoothly in order to minimize wear of parts, maximize the equipment's lifetime, and reduce cost of operation. Tests prove that Saki's systems maintain position accuracy after hours of continuous operation. This is essential for M2M communication because it ensures that the data and information communicated to third party systems are valid and accurate.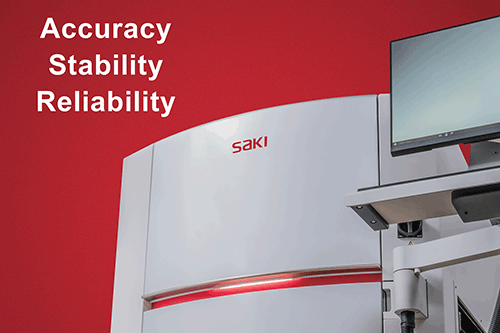 Saki's 3D AOI and SPI systems are one of the fastest and most accurate 3D inspection and measurement systems in the world. They offer a choice of three resolutions—7μm, 12μm, and 18μm—and come in both single and dual lanes with platforms that handle board sizes up to 870mm width and inspect and measure components up to 25mm in height with 1µm resolution, practically eliminating escapes and false calls. An optical head and 6-stage ring lighting provide seamless illumination for all types of components, side cameras provide multiple vision angles, and circular lighting gives consistent illumination throughout the field of view. The system captures extremely clear, detailed images with no shadowing for inspection of the most challenging defects, such as non-wetting solder, lifted leads, tombstones, reverses, and height variations.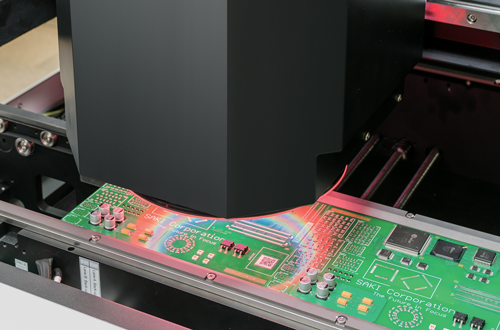 To ensure PCB quality after dip, selective, and wave soldering and to completely automate bottom-side inspection including pin through-hole fillets, Saki introduced its 2D bottom-side AOI system. Fast, cost-effective, and eliminating PCB flipping and manual handling, it uses proprietary 2D high-speed imaging technology to scan an entire 460x510mm PCBA in many kinds of lighting, in one pass, while inspecting the board on-the-fly.
Saki's 3D AXI system is the most accurate AXI system available. Defects are identified and classified, including 100% of head-in-pillow defects, voids, and dry joints, and enabling land grid array (LGA) inspection and measurement. It has been chosen as one of the best systems to identify voids inside the solder joints of insulated gate bipolar transistor (IGBT) modules, which is especially important in the automotive industry.
Saki Corporation has a global network of sales and support covering 50 countries. Headquartered in Tokyo Japan, there are 3 research and development centers and 16 direct branch offices in Japan, China, the Czech Republic, Germany, Korea, Mexico, Singapore, Thailand, and the United States.
Current market trends show that the role of 3D X-ray inspection is getting more…
Mehr Details
Was sind die wichtigen Kriterien für die Auswahl von Inspektionsequipment sowie…
Mehr Details
Aktuelle Trends in Fertigungstechnik und Markt zeigen, dass die Bedeutung der…
Mehr Details
Die Rohde & Schwarz Messgerätebau GmbH in Memmingen ist das Kompetenzzentrum…
Mehr Details
Die Langzeitstabilität und Genauigkeit der Systeme in der SMT- Fertigung sowie…
Mehr Details
SAKI bietet eine Lösung für die gesamte Inspektionslinie. SAKI's BF2-Lösungspaket…
Mehr Details
Die steigende Komplexität und Miniaturisierung der Baugruppen bei Rohde & Schwarz…
Mehr Details
The increasing complexity and miniaturization of components at Rohde & Schwarz…
Mehr Details
3D AOI Arena - Norihiro Koike, President of Saki Corporation, discusses the…
Mehr Details